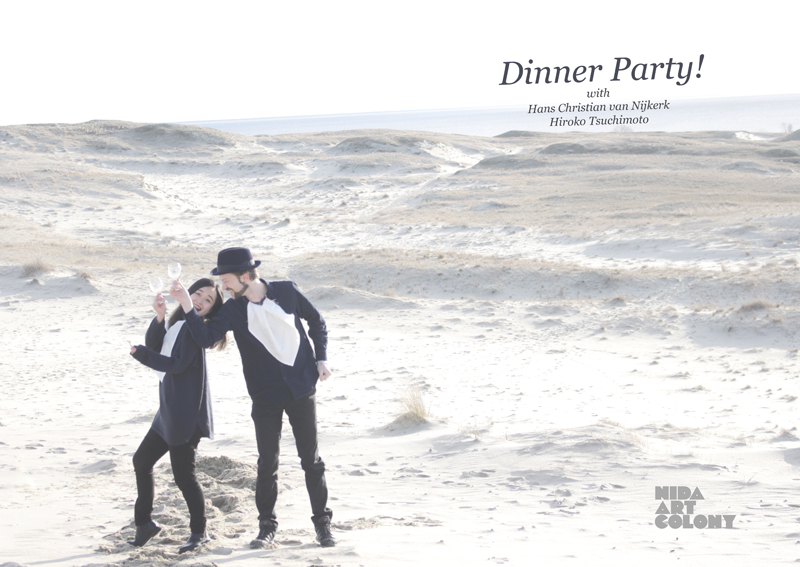 Dinner Party! (2018)
Dearest friends,
You are hereby invited to an international dinner party.
No matter what your background or criminal record is, we -Hans Christian and Hiroko- want you to feel welcome. This will be a non-hierarchical, trigger-free safe zone.
We will be preparing handmade ethical food for everyone. If you have any allergies, please notify us in advance. We will be also serving non-alcoholic drinks. You can bring your own alcohol, but please be mindful that some people might have traumatic experiences related to alcohol. When eating, eat with your mouth closed and do not talk simultaneously. Please be aware that highly sensitive guests cannot handle the sound of chewing.
Please try to include all guests in your conversations, while at the same time show understanding if someone does not want to talk. People on the more introverted scale grow tired of too much socializing. Please be aware of how much you are talking. Listening is equally important.
To keep you entertained, we will involve all of you in a non-offensive game for the whole family. Fun times!
Feel free to take photos or video clips at the dinner party. You can rest assured that documentation will not be used against you. You can share this invitation with your close friends, partners or significant others.
Please respond and lighten our hearts!
Always yours,
Hans Christian & Hiroko
"Dinner Party!" is a collaborative project with Hans Christian van Nijkerk and Hiroko Tsuchimoto in Nida Art Colony, located on a peninsula between the Curonian Lagoon and the Baltic Sea. They used the context of Artist in Residence and invited international artists to an occasion of a dinner party. They committed to entertain all the guests with welcome gestures, nature-inspired rustic table setting, handmade fusion cuisine, which addressed ethics and political correctness in intercultural communication. They also gave a GoPro camera to the guests to keep them occupied.
Duo performance with Hans Christian van Nijkerk at Nida Art Colony, Nida, Lithuania
(video by Hans Christian van Nijkerk)